Beware of fakes of the Pazzo Racing brake and clutch levers
All good things are copied - do you know this saying?

As an original manufacturer of replacement brake and clutch levers, we have not been spared plagiarism either. The plagiarism replicas are mostly only optical replicas because the manufacturers are not able to replicate the quality as we deliver them.

We expressly warn against these replicas, as not a single (!) Lever set tested by us corresponded in the least to our quality. Starting with the fit to faulty safety-relevant parts, such as Lock nuts. Imagine the following: you have to initiate emergency braking at 130 km / h and at that very moment your brake does not work because the brake lever has jammed due to a poor fit. We all don't want to imagine what can happen here ...

In order to better protect you from counterfeiting, you will find 5 simple points below to identify counterfeits: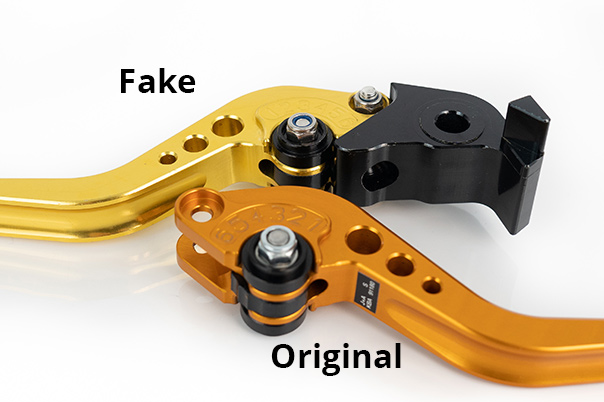 The most obvious feature for a replica is the non-lasered Pazzo Racing logo (earlier versions have lasered lettering) on the inside of the brake lever. Please note that we have always only put the logo on the brake lever.

If both levers do not have a logo, or the logo is on both levers, you may be dealing with a replica.
If you are offered a product offered as Pazzo Racing at a significantly lower price compared to the retail price of other suppliers, you should be aware. Quality has its price and why should a retailer offer a product that would otherwise cost ~ 200 euros all at once for ~ 20-100 euros?

However, replicas are not always offered at low prices. In some cases the prices are only a little below the RRP - this is to give the impression that these are original Pazzo Racing products.

Original Pazzo Racing products are only available in 2 versions and 2 lengths:
Rigid or foldable design
Long or short version
If the levers offered to you are adjustable in length or motley, they are definitely fakes, as we do not have them.
Experience has shown that the screws used for plagiarism are too short, especially with the adjuster, which means that the locking nut does not work. This can cause the mother to vibrate away, which can have fatal consequences.
Pay attention to the location of the selling dealer. If this comes from abroad (mostly from the Far East) and describes the article with a number of typing errors, it is very likely to be forgeries.

Pazzo Racing products are only sold through authorized dealers who can guarantee originality, service and advice. You will not get cheap replicas from the dealers we have listed, but 100% originality and quality!